Sketch Nestor
€ 2899,-
De Sketch Nestor e-bike is speciaal ontwikkeld voor fietsliefhebbers die meer gemak en comfort zoeken. Wie zich onzeker voelt op een normale e-bike, zal met de Nestor het vertrouwen snel weer terugwinnen!
Afspraak maken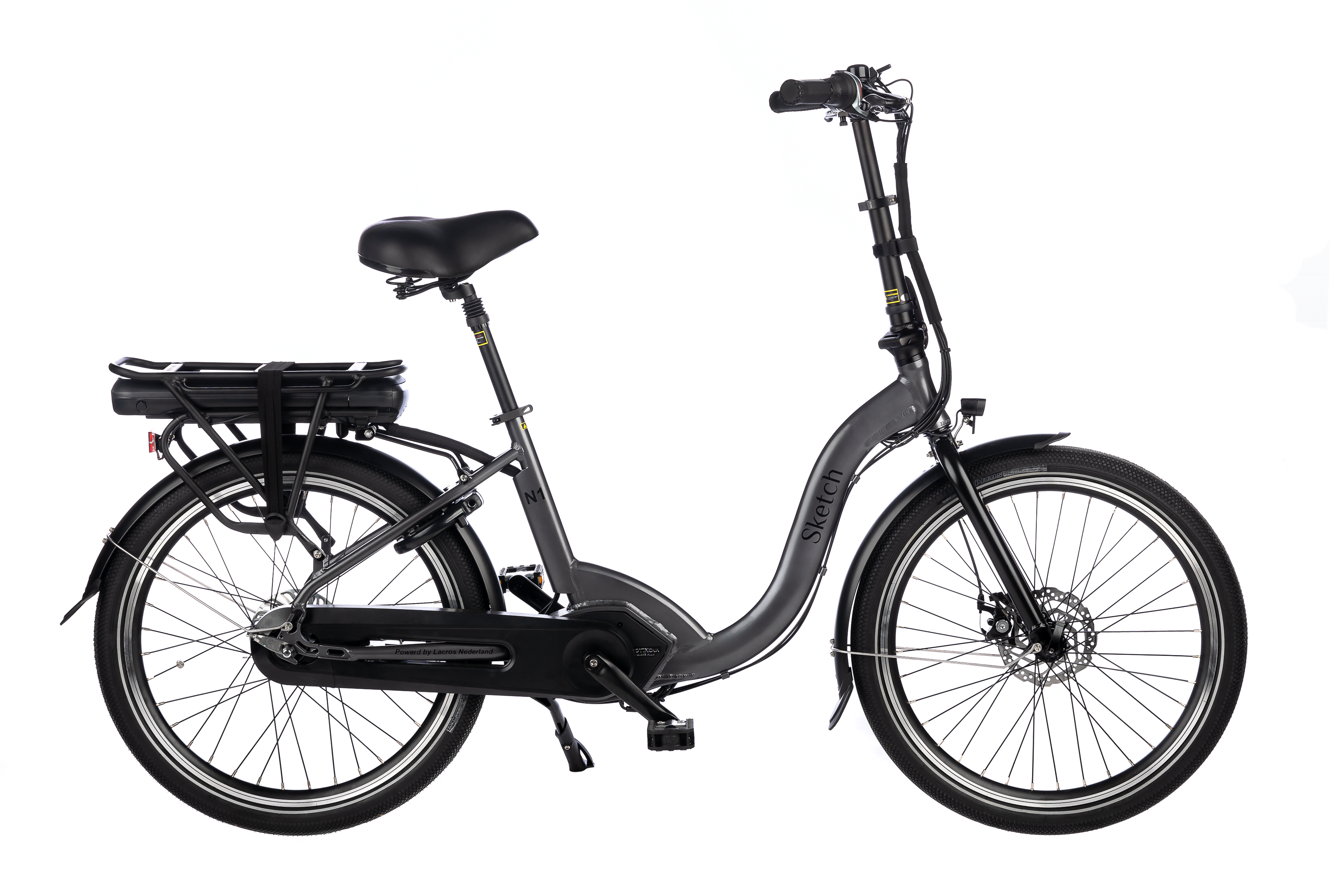 Actieradius: 50 tot 110 Km
Shimano Nexus naaf, 8 versnellingen
Als basis voor de Nestor dienen 24 inch wielen. Hierdoor zit je als berijder een stuk lager op de fiets, waardoor je veel zekerheid inbouwt. In vergelijking met een normale e-bike met 28 inch wielen voelt de Sketch Nestor direct zeer vertrouwd aan, een gevoel dat tot op heden maar weinig e-bikes konden bieden. Het zeer stabiele frame is hoogwaardig afgewerkt met gladde lasnaden, uniek in deze prijsklasse. Daarnaast heeft de Nestor een extreem lage en zeer brede instap meegekregen, dit maakt het op- en afstappen comfortabel en veilig. Het stuur en zadel zijn van deze comfort fiets zijn optimaal instelbaar, je kunt daardoor altijd een ideale zitpositie creëren. De zadelpen heeft een zeer groot bereik, daardoor is de zitpositie zo af te stellen dat je bij stilstand je voeten veilig op de ondergrond kunt zetten.
Unieke middenmotor
De Sketch Nestor is de eerste comfort e-bike met een lage instap en middenmotor. Sketch heeft gekozen voor de buitengewoon compacte middenmotor van Motinova. Deze fluisterstille krachtbron heeft niet alleen een zeer prettige, gelijkmatige ondersteuning, maar beschikt ook over een handige weg-rijfunctie. Uniek voor een e-bike is de speciale 'Smart functie' van de Nestor, waarbij automatisch de ondersteuning wordt bepaald aan de hand van de kracht op de pedalen, de cadans en de snelheid. Centraal op het stuur is een display geplaatst. De grote getallen en tekens zijn zeer goed afleesbaar en uiteraard verlicht.
Altijd thuiskomen
Standaard is de Nestor uitgerust met een 468 Wh accu, hierdoor kun je direct veel kilometers maken en sta je nooit met een lege accu. Of je nu gaat toeren op een vlakke polderweg of in het heuvelland, zelfs met stevige tegenwind, met de Shimano Nexus versnellingsnaaf schakel je soepel tussen acht versnellingen. Op remgebied heeft Sketch gekozen voor de allerbeste optie: vóór een schijfrem en in het achterwiel een veilige hydraulische schijfrem. Zo kom je onder alle omstandigheden veilig en snel tot stilstand.
Meenemen
Neem je de comfort fiets mee op vakantie of een weekendje weg, dan zijn zowel het stuur- en trappers simpel in te klappen. Zo schuif je de Nestor zeer eenvoudig in de kofferbak, caravan of camper. Hoe mooi is dat? Ook is de Nestor door zijn lage eigen gewicht eenvoudig op een fietsendrager te plaatsen en kom je in de meeste gevallen ook gunstiger uit met de maximale kogeldruk van de auto. Ook qua afmontage laat de Sketch Nestor weinig aan het toeval over. Zo is de Nestor voorzien van Weetire anti-lek banden, door de RAI Vereniging goedgekeurde RFK verlichting, een remlicht, ergonomische handvatten, een speciale bel en een comfort zadel, kortom: het fietsplezier kan beginnen.
Handleiding Motinova display
Download
hier
de handleiding van de Motinova display.
Actieradius: 50 tot 110 Km (afhankelijk van de accu capaciteit)
Accu: lithium-ion, Samsung 468Wh (upgrade naar 630 Wh mogelijk)
Motor: Motinova 36 V middenmotor
Topsnelheid : 25 km
Display: motinova LCD verlicht (en dimbaar)
Smart Ride functie (automatische ondersteuning)
Banden: VeeTire Speedster Anti-lek, full grip
Wegrij ondersteuning
Bedieningspaneel op het stuur.
Frame: Aluminium 6160
Gewicht: 19 kilogram
Bekabeling:. Jackwire
Handvatten: Leder gestikt
Kettingkast: Hesling
Pedalen: Ergo vouwpedalen
Remgrepen: Tektro
Bel: BBB Loud and Clear de luxe
Remmen: Tektro Schijfrem voor, roller brake achter
Slot: ART gekeurde Trelock ringslot
Spaken: RVS zwart
Standaard: Atran Velo
Stuur: Verstelbaar, zowel in hoogte als ook inklapbaar
Velgen: dubbelkamer Ryde verstevigt
Verlichting: StVO en Rai gekeurde verlichting, achter voorzien van remlicht
Versnelling: Shimano Nexus naaf, 8 versnellingen
Zadel: Sketch Comfort zadel
Verkorte Crank merk: Prowheel